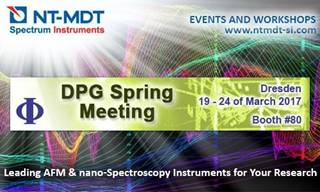 NT-MDT Spectrum Instruments proudly exhibited at the recent DPG 2017 Spring Meeting in Germany, Dresden, March 19th– 24th 2017. The conference took place this year at TU Dresden. DPG Spring meetings take place at varying locations and is one of the largest Physics Congresses in Europe attracting almost 10,000 Physicists from all over the world to participate.
From cutting edge scientific research to routine surface investigations, NT-MDT Spectrum Instruments has a unique and unrivalled portfolio of Scanning Probe Microscopes. Our application-focused instruments provide you with a full range of capabilities in AFM-Raman, high-resolution, multi-frequency measurements, and AFM based nanomechanics.
Dr Sergey Lemeshko Sales Manager responsible for the German Market presented TITANIUM, our revolutionary AFM, on which he generated high quality scans and delivered results in real time.
NT-MDT Spectrum Instruments would like to sincerely thank all those that visited us at Booth # 80 Zelt A and met with our experts to discuss your AFM needs and were happy to find solutions.
For further information on upcoming events and workshops for NT-MDT Spectrum Instruments please visit
http://www.ntmdt-si.com/